Otis Redding: An Unfinished Life by Jonathan Gould, Crown 2017
Is it possible that Otis Redding's performance at the 1967 Monterey Pop Festival is one of the great moments in the history of western culture? Fifty years ago, in the wee hours of a Sunday morning, long after Hugh Masekela's endless set put everything behind schedule, a 25 year old from Macon, Georgia came onstage and blew everyone who had played before, and just about everyone who was yet to play, off the stage. Jimi Hendrix felt it necessary to light his guitar on fire. Bob Weir reckoned he'd seen God. Such was the Otis effect.
Bob Weir isn't far from wrong. Otis's performance, fortunately captured on film, is transcendent. It's the best Springsteen show you've ever seen mixed up with a sort of soul review version of King Lear. It's what every band tries to do onstage. It's emotional but seamless. It's ragged but never sloppy. Otis makes a personal connection with the audience, row by row, seat by seat. There is a clip of him singing 'I've Been Loving You Too Long' at the end of the review. Make sure you are sitting down.
California was good to Otis. A few months later he wrote Dock of the Bay on a houseboat in Sausalito. He should have stayed. Instead, he went back to his punishing touring schedule and died in a plane crash on December 10th of that same year. All that energy, all that extraordinary talent that was on show at Monterey, disappeared in an instant.
Jonathan Gould's new biography, Otis Redding: An Unfinished Life begins with his appearance at the festival, backtracks to his early life, and finishes with the slow demise of Stax Records in the 1970s. It's an appropriate ending. Many, including guitarist Steve Cropper, have stated that Stax was never the same after Otis died. This is by no means the first book to link the Memphis record label's decline back to his death. Otis was instrumental to its rise and embodied its spirit. Gould acknowledges this but suggests that Otis' story is much more far reaching than the rise and fall of a record label.
Consider this: Otis Redding was born in 1941, making him an almost exact contemporary of John Lennon and Paul McCartney. But if The Beatles sprang from a Victorian industrial port city, Otis was born into another 19th century altogether. Georgia, in 1941, remained segregated at all levels of society. Many of the most severe Jim Crow laws were still in effect. Those that weren't, were still there in spirit. The civil rights movement wasn't even on the horizon. Just over 25 years later, at the end of his short life, Otis was living in a very different America. His life spanned a period of significant change. In fact, by 1967, the era-defining civil rights movement was giving way to Black Power and more militant figures were replacing the soon to be assassinated Dr King. There is a moment late in the book where Otis is being interviewed by Life Magazine and is interrupted by Rap Brown, a figure that would have been unimaginable ten years earlier, let alone at the time of Otis' birth. That said, when Otis decided to buy a farm outside of Macon in the mid sixties, he still had to make sure that the mainly white residents of the community would be comfortable with his presence. He told his manager that he didn't want a cross burning on his lawn.
Gould weaves Redding's story into the broader narrative of African American life in the mid 20th century. His generation of singers, including his occasional rival James Brown, followed the examples of Ray Charles and Sam Cooke who had both worked hard to maintain control over their careers. The young Otis had to prove himself several times in new neighborhoods when the family moved for work in the 1950s. The man that emerges in this book is no pushover and this is not the story of how a black entertainer was ripped off by unscrupulous white men. From the beginning, Otis chose the people around him carefully and, for the most part, avoided the usual pitfalls musicians encounter when their music begins to make money.
But this was still America in the sixties and Otis was consigned to the R&B market and long tours on the 'Chitlin Circuit'. In his lifetime, he was far more popular in Europe than in America. The Rolling Stones were early fans and John Lennon named him as his favourite singer in a mid sixties interview. His first number one single in America was '(Sittin' on the) Dock of the Bay' which reached that position on March 16 1968, almost 4 months after he died.
Gould is very good on the nuts and bolts of Otis's various business relationships. Almost in the manner of Franco Moretti's exacting work on the history of the novel, Gould uses detailed examples from contracts and booking arrangements to illuminate the precise nature of these relationships. This in turn puts some meat on the bones of the social context of the story. Redding's association with his white manager, Phil Walden, is examined closely and functions as something of a metaphor for the changes that were taking place in the wider society. It is well known that Jimi Hendrix came under increasing pressure from African American activists to avoid using white backing musicians and managers. It's an open question as to whether Otis would have been subjected to similar pressure. He had already shown a distinct lack of interest in politics – but then so did Hendrix.
From my perspective, Gould is better on social history than music. When I read a music biography, I want to finish with a deeper sense of the subject's body of work. This, I'm afraid, did not happen. His background material on minstrel groups, the blackface phenomenon, and southern gospel is concisely delivered and appropriate to his narrative but it's all familiar material. I was surprised initially at his dismissal of an early recording by Redding called 'Shout Bamalama'. Yes, it's a blatant Little Richard rip off but it is still a glorious piece of music. Gould treats it like embarrassing juvenalia. I wonder if he realizes that it has been covered by Eddie Hinton, Jim Dickinson, and The Detroit Cobras. They liked it!
Astonishingly, he seems unhappy with Otis's body of work at Stax Records. His underlying point appears to be that Stax was essentially an amateur operation run by a hayseed – Jim Stewart. Over and over, Gould points to instances where he believes Redding's career was mishandled. Most surprising is his unstated but obvious contention that Otis would have been better off with Jerry Wexler at Atlantic like Wilson Pickett. Pickett recorded at various studios including Fame in Muscle Shoals but his sound was created at Stax.  The Fame recordings are magic, of course, but they were an attempt to recreate the Stax sound. I can see the point he is making from a management perspective but I seriously dispute that the vast amount of Otis Redding's output would have sounded better with the Swampers at Fame or Chips Moman's crew at American Studios. Different perhaps, but better? Better than 'Cigarettes and Coffee' from The Soul Album? Listen to the beginning with Packy Axton's sax and Wayne Jackson's trumpet on top of Al Jackson's drums.  Then there is a perfectly timed restrained guitar lick from Steve Cropper just before Otis starts to sing. In 12 seconds, the 3am atmosphere of the song is established.  Could Jerry Wexler do better? I doubt he would have thought so. There is a clip below. Listen to it. That is the Stax sound and it's right up there with Chartres Cathedral and Bach's Brandenburg Concertos as far as I'm concerned.
Gould does acknowledge in the afterword that his perspective on Stax Records might be quite different to that of Rob Bowman, Robert Gordon, and Peter Gurlanick, who have all written books on the subject. The difference is that they like the music. He lost me when he dismissed Eddie Floyd as a 'journeyman'. A few years ago, I saw Floyd, who is no longer a young man, take the roof off a St Kilda venue and send it frisbee-like into Port Phillip Bay. He may not be Gould's cup of tea but he is no journeyman. I also dispute that Steve Cropper's guitar work is 'limpid' on Redding's version of 'A Change is Going To Come' or any other song. Ever.
If you've already read the standard Stax Records books (see my list below), most of which cover Otis at great length, there are still many good reasons to read A Life Unfinished. The research is impeccable and perhaps it is time for a serious biography that goes beyond the music and addresses the wider implications of Otis Redding's time on earth. Gould works hard to penetrate the somewhat mysterious inner life of the man. This is by no means some kind of iconoclastic Albert Goldman style biography but we are certainly left with a sense that there was a lot more to Otis than the genial image projected by his music.
I like a music biography that sends me charging to my stereo or laptop to hear a particular version of a song or an album that I've henceforth ignored. This didn't happen but perhaps Gould felt that book had already been written – and he's right. If you're after an account of Otis Redding's life that skips the myth and aims to deliver the man himself along with the period he lived in, this might be the one.
Teasers: Otis and James Brown; Otis and Aretha; Otis' serious brush with the law just as his career was taking off.
The Greatest Moment in Western Culture:
The evidence:
Further Reading on Stax Records, Otis, Southern Soul, etc:
It Came From Memphis by Robert Gordon (2001)
Sweet Soul Music by Peter Guralnick (1999)
Soulsville USA by Rob Bowman (2003)
Respect Yourself by Robert Gordon (2015)
Nowhere To Run by Gerri Hirshey (1994)
Say It One Time For The Broken Hearted By Barney Hoskyns (1998)
Dreams To Remember by Mark Ribowsky (2016)
Young Soul Rebels: A Personal History of Northern Soul by Stuart Cosgrove, Polygot 2016
Northern Soul is timeless and somewhat mysterious. Try to think of another music scene that has continued virtually unchanged for roughly half a century. Not easy, is it? In the late sixties, young English people were dancing to obscure soul 45s in decaying industrial towns. They still are. The dancers have changed but the beat goes on.
Stuart Cosgrove is part of the inner circle. He came of age dancing in Wigan Casino circa 1975 and is thus perfectly placed to tell Northern Soul's story.  The scene was so insular that I suspect that it would be virtually impossible to write about it without a personal connection. Cosgrove, who now hosts a football program on the BBC, peppers this detailed history with his own memories.
This is his second book about music in the last twelve months. His Penderyn nominated Detroit 67 (reviewed on this blog) appeared late last year. That book was an ambitious historical sweep of late 60s America. Young Soul Rebels is more personal but his ability to meld economic change, music, and personal journeys is still on show.
So what is 'Northern Soul'? This is tricky. Yes, it refers to the north of England but it also might allude to the provenance of many of the rare American soul records played in the dancehalls. There are great Northern Soul favourites from the American south but overall the aesthetic seems to be more Motown than Stax, more city than swamp. In any case, Northern Soul is a term originally used by London record stores in the mid 1960s. It was used to describe the incredibly obscure soul 45s that were so popular with DJs in Manchester and points north. These DJs were playing music for Mods who, as Pete Townsend has always made clear, did not listen to The Who. The original Mods listened to Jazz, Blues, RnB, and the early Jamaican pop sounds on Blue Beat records. This eclecticism soon gave way to an almost religious obsession with Motown and the thousands of little labels producing similar sounds in that period.
At some point in the late Sixties, the Mods divided into two factions. One group drifted into paisley shirts and faux pastoral lysergic afternoons in Hyde Park. The other group donned singlets and loose pants for heart murmuring nights of amphetamine cocktails and Northern Soul. Unlike the twisty yoga hand jive and starry eyed shuffle of the first group, Northern Soul dancing was acrobatically athletic. The clothes had to be loose enough to accommodate back flips, high kicks, and swallow dives. Many of the most famous male dancers were also involved in martial arts. As for female dancers, well, there was one young woman who turned a few heads with her moves at the Blackpool Mecca in the mid 70s. Her name was Jayne Torvill.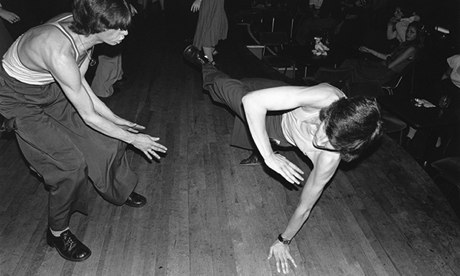 Stuart Cosgrove covers the early years at Manchester's Twisted Wheel nightclub, where the scene was born, but focuses on the most famous venue of all, Wigan Casino. He lovingly recreates the sights, sounds and olfactory sense of an evening there. The layout is important. It wasn't just one big hall. There were smaller rooms where traditionalists could dance to early sixties sides without having to worry about the creeping funkiness of early 70s r'n'b. In other rooms there were pop up rare record markets where big money changed hands and discussions of music often grew heated. The main room, however, was where the seriously aerodynamic dancing took place and legendary DJs melted the floor with sides like Fred Hughes Baby Boy. Listen to it on YouTube and see if you can sit still. I dare you! At the end of the night which was actually the next morning, the DJ would play the '3 before 8'(am); Jimmy Radcliffe's Long After Tonight Is All Over, Tobi Legend's Time Will Pass You By and Dean Parrish's I'm On My Way. The dancers would then make their way outside, blinking in the grey Sunday morning light and presumably heading for the nearest curry shop.
Wigan's popularity inevitably caught the notice of the mainstream media, albeit briefly. In 1975, an episode of Top of the Pops featured a cringe inducing 'Northern Soul' dance segment with lousy music and ridiculous clothing. For a scene deeply invested in authenticity and integrity, it was traumatic. One Wigan dancer later described it as 'our Vietnam flashback moment'.
Wigan Casino closed in the late 70s, by which time the scene was shifting to the Mecca in Blackpool. The mid seventies were not kind to the old English seaside resorts but the Northern Soul scene offered some relief. The large halls where grandparents had danced in Larkin's 1914 became venues for large-scale soul events. Never such innocence indeed! And appropriately, it was at one of these places where a veritable Great War erupted in Northern Soul.
It all started when a man called Ian Levine went on vacation with his wealthy family to Florida. In the course of his visit to the US, he bought a warehouse, yes a warehouse, worth of old soul records. As they arrived back on cargo ships, he made 'yes, no, and maybe' piles. The yes pile included, horrors, music from the early 1970s, as opposed to the mid sixties. While DJing the Mecca, he veered dangerously in the direction of the funky and disco-licious. In the weeks that followed, there were protests and 'Levine Must Go' pins were distributed. Other DJs followed suit in smaller venues. One fellow was fired on the spot for playing Rose Royce's Car Wash. (Not incarcerated?) Ian Levine went on to DJ at London's famous gay disco, Heaven, for a decade before producing the boy band Take That. Today, he is an extraordinarily cranky Dr Who fanatic. His YouTube channel is a great place to hear some seriously obscure soul.
Northern Soul drifted back to relative obscurity in the mid to late 1980s. Its original dancers were now approaching middle age and there was a sense that all of the great rare singles had been uncovered. Various revivals have kept it alive however and it is still entirely possible to find a soul all nighter in England today. I'm keen! Who's with me? I'm not sure about the singlet but I like the idea of baggy pants.
Its longevity is not really such a great mystery. The music is timeless and brilliant. A legendary Northern Soul standard like Gloria Jones' Tainted Love (famously covered by Soft Cell, a band made up of two Northern Soul boys from Leeds) never gets old. It's own obscurity has helped too. I once accidentally went to a comprehensive but vacuous Jean Paul Gaultier exhibition at an art gallery. The 'punk' section made me cry. This is where something brilliant died, I thought. But punk's rise was so meteoric that it was doomed from the beginning. Northern Soul, as Cosgrove points out, was completely ignored by the NME and other mainstream publications. It was too Northern, too sweaty, and altogether too provincial for London cool hunters. For some reason old Jean Paul's Northern Soul line never appeared. Maybe it was the George Best haircuts and homemade club patches. He just couldn't see it.
Stuart Cosgrove executes this story masterfully. The songs he mentions – and, in true Northern Soul fashion, he always notes the label and year – are all available on YouTube so this book can be heard while it's being read. He was an ardent collector and his search for rare soul records while studying in America is a real highlight. On one occasion he picked through the usual sea of vinyl flotsam in a small shop only, at the last moment, to be directed to a pile he'd missed. Amid the dusty and unloved singles he came up with Hey Boy by the DC Blossoms, on the Shrine label. The joy at finding a record you never quite thought you'd own is hard to describe but he does a good job here. His sudden attraction to the woman behind the counter in the velour slacks is part of it but I won't spoil it.
I liked the people in Young Soul Rebels too. Northern Soul was always about individuals as much as it was about music. Many of the participants he introduces to the reader are working class English folk living in the slowly fading light of the industrial revolution. Northern Soul provided an identity and a community at a time when both were under serious threat from the forces of globalization and Thatcherite economics. There is the sad story of his friend Pete Lawson who struggles with mental illness and drug addiction while finding relief in record collecting. There is the surreal tale of master bootlegger, Simon Soussan,  a figure out of Le Carre. Their stories, along with the frequently hilarious antics of various DJs, collectors, and dancers all build a vivid picture of the Northern Soul scene and northern England in the 70s and 80s. Martha Graham once said that 'dancing is the hidden language of the soul of the body'. Cosgrove reveals a bit of the secret language of Northern soul in this worthy book.
Teasers: The club at Allanton and the politics of Northern Soul.
Detroit 67: The Year That Changed Soul Stuart Cosgrove, 2015
"I have some rights of memory in this kingdom."
I feel a bit like this about Detroit. I grew up in Toronto and have only visited the Motor City once or twice but my grandmother was born there and my father often spoke about family connections in Michigan. Of course the Detroit that he visited as a child in the late 40s was a different place to the city Stuart Cosgrove describes in his new book, Detroit 67:The Year that Changed Soul.
Detroit, when my dad visited, was the embodiment of the Dream as it stood in the mid 20th century. The cars, like the ambitions, were large, ornate, and obscenely comfortable. As the last of the independent automotive companies were absorbed by the big three, enormous personal wealth and top heavy management structures supplanted the creative spirit of the car industry. From the southern states came African American migrants in search of a better life and relief from Jim Crow. No one could have foreseen the next chapter and no one in 1948 would have recognized the city described in this book.
Detroit 67 begins with a long section outlining the day to day activities and troubled internal relations of The Supremes. The Motown gossip is here – yes, Berry Gordy was involved with Diana Ross – but the focus is on Florence Ballard who will, in Cosgrove's account come to embody, not only the move by Motown Records towards a more corporate model, but also the decline of Detroit itself. The story then shifts rather abruptly to John Sinclair and the beginnings of the MC5. The connection, at first, seems tenuous. Sinclair hated Motown, though he had once shopped in Gordy's unsuccessful record store for obscure jazz sides. The MC5 were about as far removed from The Supremes as would be possible in one city.
Part of the challenge he has set himself in this deceptively ambitious book is to make that connection. The Supremes spent 1967 appearing on network TV, shaking hands with Lyndon Johnson, visiting Vietnam vets in hospitals, and playing Las Vegas and mainstream venues like New York's Copacabana. John Sinclair and the MC5, on the other hand, spent the year hounded by the police, the FBI and right wing extremists. The MC5 occasionally played on bills with lesser Motown acts but not The Supremes, of course. Berry Gordy loved duets. Imagine the Rob Tyner/Diana Ross version of It Takes Two. A missed opportunity for sure!
"It Takes Two" Diana Ross and Rob Tyner

So how does he bring it all back home? Where does The Supremes' 1967 cross paths with John Sinclair's?
In July of that year, riots broke out in Detroit. The mainstream media referred to them as 'race riots'. Some African American commentators said it wasn't a riot, it was a rebellion. The sixties began in Detroit over those three days. Motown, the dominant cultural force in the city, suddenly seemed quaint and a bit naive. Luckily, for Berry Gordy, Norman Whitfield turned up to drag the record company into the new world of post JFK, post MLK, and post Hendrix at Monterey America.
Sinclair and the MC5 had been political for some time but the riots seemed to lead Sinclair, at least, into the murkier world of underground radicalism, culminating in the formation of the White Panther party and the attempted bombing of a CIA office in Detroit.
Berry Gordy fired Florence Ballard and was himself 'fired' by Holland Dozier Holland, the songwriting and production team who had spun so much gold for him. He didn't move the whole show to LA for another five years but the writing, as they say, was on the wall for Motown's relationship with Detroit. Like everyone else, he got the hell out of Dodge after the riots and the city was one step closer to those abandoned library photos so beloved of Facebook users.
So what does it all mean? Well, to begin with, the book isn't about Motown Records or The MC5 although there is plenty of information about both if you are curious. It isn't really, despite the subtitle, about soul music. It also isn't, as many reviewers seem to believe, about Florence Ballard or even The Supremes. No, Flo's depressing rags to riches to rags story is a metaphor here for the year itself. Cosgrove is writing about the American Dream and her story is emblematic for a period when it began to run out of puff for most people. The riots, the Vietnam war, the increasingly grim situation for many African Americans despite the civil rights period, and the growing economic downturn that is destined to hit the working class hardest, are all contained in Flo's sad story. Cosgrove is a stylish historian and this all works very well indeed.
Detroit 67:The Year that Changed Soul is the first book in a trilogy. The next one is titled Memphis 68 and will no doubt focus on Stax Records and MLK's assassination. Motown, known for its dreamy harmonies and occasionally syrupy lyrics, was a far darker place than Stax. Berry Gordy loved the idea that his company was like a family. Of that, there is no doubt! Particularly if the family name is Macbeth or Borgia. Meanwhile, at Stax, a generally happy group of performers and studio musicians produced a body of music that was anything but light.
Go figure! And go read this book!
 Teasers: The truth about Tammi Terrell, Marvin Gaye, and David Ruffin. Finally!