Heads: A Biography of Psychedelic America by Jesse Jarnow, Da Capo, 2016
There is something existential about the Internet. Its essence is exactly what it is while you are using it. Turn away for a few moments and it changes, leaving few traces that it was ever anything else. I taught a course recently that involved placing the Internet in a historical context. The students, most of whom can't remember a world without smartphones let alone the web, were nonplussed. It used to suck and now it rocks while continuing to move from sucking to rocking. It is almost as though the technology somehow erases its own past for fear that the endless novelty of it all will be revealed. No past, no future. This isn't like those other inventions that got old and boring, weighed down by their tedious histories. This one will stay young forever!
But the Internet is no different to the printing press, the telegraph, or television. It does have a history with real people and actual places. It will get old. Possibly the most striking feature of Jesse Jarnow's new book, Heads: A Biography of Psychedelic America, is the decidedly historicist take on cyberspace.
History occurs when chronology meets geography. When stuff happens, it happens where it happens. In the mid 1960s, the Pentagon invited the top US academics in the burgeoning computer science field to decentralize the vast amounts of security and sundry information in their increasingly important computer systems. The result was something called the Arpanet that was set up to get the various mainframes talking to each other. So, that was the thing that happened. The 'where it happened' is the good part. Berkeley University, mid sixties. While Mario Savio was outside talking about actual revolution, the virtual one was starting inside. Over in Haight Ashbury, across the bridge, Wavy Gravy, Peter Coyote and the other Diggers were challenging received ideas about private property, sexuality, and personal hygiene. And, most significantly according to Jesse Jarnow, Timothy Leary was getting stoned. Really stoned. Oh, and a garage band called The Warlocks were playing their first gig at a pizza place in Menlo Park. More about them later.
Narcotics were popular long before 1965. Nineteenth century Romanticism was fueled by opium, twentieth century Modernism ran on coke. Jean Paul Sartre took so much mescaline that he was having flashbacks involving talking lobsters for years. But in 1943, Albert Hoffman, a Swiss chemist, came up with something he called LSD. He took some, got on his bicycle, and rode, hopefully not in traffic, into history.
Jarnow begins with Hoffman and Aldous Huxley, who was more of a mescaline man but did take a tab on his deathbed. He died on the same day as JFK and CS Lewis, which must have made things very trippy when he got to heaven. A couple of years later, Ken Kesey, in a spectacular act of procrastination while trying to follow up One Flew Over the Cuckoo's Nest, went on the road with The Merry Pranksters. The bus was called Further and was driven by amphetimised motormouth and Beat hero, Neal Cassady. Somewhere along the way to the New York World's Fair, they stopped at a lake and dropped acid. It's in the documentary, Magic Bus, and it is funny. Kesey had already tried LSD, of course, as a guinea pig at the Menlo Park Veterans' Hospital. There's footage of this too. Also funny.
Eventually, Kesey and crew returned to California and began running 'Acid Test' parties. A party needs music and The Warlocks, fresh from their tour of suburban pizzerias, were available. They had a new name though because another band, on the east coast, was called The Warlocks. The new name was The Grateful Dead. The other band changed their name too. They became The Velvet Underground.
At the Acid Test and subsequent hallucinatory soirees, The Grateful Dead became acquainted with the man behind all that LSD. Oswald Stanley, a would-be ballet dancer from a posh Kentucky family, produced an estimated 10 million hits of acid in his long career. He also became the Dead's soundman and archivist. The 'Bear', as he was known, is the reason there are so many pristine live Dead recordings from the late 60s. But it is also true to say that an LSD revolution needs a lot of LSD. He did his best and has been called the 'Henry Ford of hippies'.
Back in cyberspace, things were changing too. In 1969, a student at UCLA sent the first email to Stanford University. The message read, 'lo' instead of 'login' because, naturally, the system crashed after two letters. Stanford, at the southern end of the San Francisco Bay or 'Silicon Valley', was a hot bed of computer science activity at the time. The researchers were really young, really smart, and really keen on tripping. They were listening to The Grateful Dead too and this is where the going started to get weird, as Uncle Hunter might have put it.
As the acid drenched, paisley shirted 60s drifted into the Watergate drenched, leisure suited 70s, these computer dudes (with occasional dudette) took shelter in what Jarnow calls 'Deadland', the Grateful Dead's breakaway state of narcotic bliss. The computer scientists now had the technology to communicate in cyberspace. And what did they talk about? Yes, their favourite band. Many early emails included messages like 'Are you guys still seeing them at Winterland next month?' They also involved requests like, "Can you send me the Fillmore East tapes?" Free music on the Internet? Impossible!
In the mid seventies, SAIL (Stanford Artificial Intelligence Laboratory) sought to create an operating system where information could be organized through associative key words to enable 'online' searches. Obviously, this was the right direction and the first thing to be 'posted' was the complete lyrics of The Grateful Dead. Many of SAIL's researchers were Deadheads and more than few were hardcore trippers. Down the road in Palo Alto, two guys named Steve were working on something big. They liked acid too but preferred Dylan to the Dead.
But what does it all mean, man? The web has come, at least in theory, to represent an egalitarian network where ideas (and a lot of free music) are shared. That sounds like a Grateful Dead show, doesn't it? You can make new friends, shop, talk, complain, fall in love, and build a unique identity. That's what Deadheads did. And do.
Jesse Jarnow is making a case for the LSD community, in general, and the Deadhead community, in particular, as prototypes for the contemporary Internet. It's a huge call but he builds his case magnificently here. If you are shaking your head skeptically as you read my blog, I promise you won't be after a couple of hundred pages.
You'll notice that I have carefully negotiated my way around the phrase 'long strange trip' so far but Heads is an epic. Jarnow starts with Hoffman on his bicycle in 1943 and finishes up with the Occupy movement nearly 70 years later. His tone is agreeably wry. LSD is a funny drug and odd things happen when people take it. He is thus more in the school of Wolfe than the Malibu mansion of Didion here.
Heads is a fun book, if predictably loopy at points. It's not really about music despite the focus on the Dead. His interest in the band seems to be mainly cultural. He spends far too much time on Dead wannabes like the tedious Phish and on charlatans like Terrence McKenna but these are minor quibbles. If you are looking for the link between LSD and the Internet or have ever been curious about the whole Grateful Dead thing, you must read this book. If you've already joined the (micro) dots, know how many times they played Dead Star, had a stall selling crystals on Shakedown Street and see your life in terms of pre and post 1995, then you are probably quoted and don't need to read it.
Teaser: Too many Dead connections to mention. Keith Haring, Al Gore, a café in Katoomba, 9-11, Bernie Sanders, Wikileaks. It's all the same story, man.
The Grateful Dead on the Festival Express Tour, somewhere in Canada. This is an old blues song. The Dead's 40 minute 'space jams' can be a bit ponderous for the uninitiated. They are at once an overrated and underrated band. This is lovely moment where their folk side is on full display.
This, however, might be more representative!
Young Soul Rebels: A Personal History of Northern Soul by Stuart Cosgrove, Polygot 2016
Northern Soul is timeless and somewhat mysterious. Try to think of another music scene that has continued virtually unchanged for roughly half a century. Not easy, is it? In the late sixties, young English people were dancing to obscure soul 45s in decaying industrial towns. They still are. The dancers have changed but the beat goes on.
Stuart Cosgrove is part of the inner circle. He came of age dancing in Wigan Casino circa 1975 and is thus perfectly placed to tell Northern Soul's story.  The scene was so insular that I suspect that it would be virtually impossible to write about it without a personal connection. Cosgrove, who now hosts a football program on the BBC, peppers this detailed history with his own memories.
This is his second book about music in the last twelve months. His Penderyn nominated Detroit 67 (reviewed on this blog) appeared late last year. That book was an ambitious historical sweep of late 60s America. Young Soul Rebels is more personal but his ability to meld economic change, music, and personal journeys is still on show.
So what is 'Northern Soul'? This is tricky. Yes, it refers to the north of England but it also might allude to the provenance of many of the rare American soul records played in the dancehalls. There are great Northern Soul favourites from the American south but overall the aesthetic seems to be more Motown than Stax, more city than swamp. In any case, Northern Soul is a term originally used by London record stores in the mid 1960s. It was used to describe the incredibly obscure soul 45s that were so popular with DJs in Manchester and points north. These DJs were playing music for Mods who, as Pete Townsend has always made clear, did not listen to The Who. The original Mods listened to Jazz, Blues, RnB, and the early Jamaican pop sounds on Blue Beat records. This eclecticism soon gave way to an almost religious obsession with Motown and the thousands of little labels producing similar sounds in that period.
At some point in the late Sixties, the Mods divided into two factions. One group drifted into paisley shirts and faux pastoral lysergic afternoons in Hyde Park. The other group donned singlets and loose pants for heart murmuring nights of amphetamine cocktails and Northern Soul. Unlike the twisty yoga hand jive and starry eyed shuffle of the first group, Northern Soul dancing was acrobatically athletic. The clothes had to be loose enough to accommodate back flips, high kicks, and swallow dives. Many of the most famous male dancers were also involved in martial arts. As for female dancers, well, there was one young woman who turned a few heads with her moves at the Blackpool Mecca in the mid 70s. Her name was Jayne Torvill.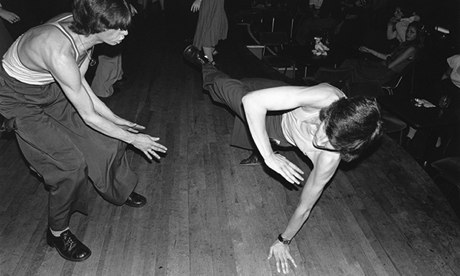 Stuart Cosgrove covers the early years at Manchester's Twisted Wheel nightclub, where the scene was born, but focuses on the most famous venue of all, Wigan Casino. He lovingly recreates the sights, sounds and olfactory sense of an evening there. The layout is important. It wasn't just one big hall. There were smaller rooms where traditionalists could dance to early sixties sides without having to worry about the creeping funkiness of early 70s r'n'b. In other rooms there were pop up rare record markets where big money changed hands and discussions of music often grew heated. The main room, however, was where the seriously aerodynamic dancing took place and legendary DJs melted the floor with sides like Fred Hughes Baby Boy. Listen to it on YouTube and see if you can sit still. I dare you! At the end of the night which was actually the next morning, the DJ would play the '3 before 8'(am); Jimmy Radcliffe's Long After Tonight Is All Over, Tobi Legend's Time Will Pass You By and Dean Parrish's I'm On My Way. The dancers would then make their way outside, blinking in the grey Sunday morning light and presumably heading for the nearest curry shop.
Wigan's popularity inevitably caught the notice of the mainstream media, albeit briefly. In 1975, an episode of Top of the Pops featured a cringe inducing 'Northern Soul' dance segment with lousy music and ridiculous clothing. For a scene deeply invested in authenticity and integrity, it was traumatic. One Wigan dancer later described it as 'our Vietnam flashback moment'.
Wigan Casino closed in the late 70s, by which time the scene was shifting to the Mecca in Blackpool. The mid seventies were not kind to the old English seaside resorts but the Northern Soul scene offered some relief. The large halls where grandparents had danced in Larkin's 1914 became venues for large-scale soul events. Never such innocence indeed! And appropriately, it was at one of these places where a veritable Great War erupted in Northern Soul.
It all started when a man called Ian Levine went on vacation with his wealthy family to Florida. In the course of his visit to the US, he bought a warehouse, yes a warehouse, worth of old soul records. As they arrived back on cargo ships, he made 'yes, no, and maybe' piles. The yes pile included, horrors, music from the early 1970s, as opposed to the mid sixties. While DJing the Mecca, he veered dangerously in the direction of the funky and disco-licious. In the weeks that followed, there were protests and 'Levine Must Go' pins were distributed. Other DJs followed suit in smaller venues. One fellow was fired on the spot for playing Rose Royce's Car Wash. (Not incarcerated?) Ian Levine went on to DJ at London's famous gay disco, Heaven, for a decade before producing the boy band Take That. Today, he is an extraordinarily cranky Dr Who fanatic. His YouTube channel is a great place to hear some seriously obscure soul.
Northern Soul drifted back to relative obscurity in the mid to late 1980s. Its original dancers were now approaching middle age and there was a sense that all of the great rare singles had been uncovered. Various revivals have kept it alive however and it is still entirely possible to find a soul all nighter in England today. I'm keen! Who's with me? I'm not sure about the singlet but I like the idea of baggy pants.
Its longevity is not really such a great mystery. The music is timeless and brilliant. A legendary Northern Soul standard like Gloria Jones' Tainted Love (famously covered by Soft Cell, a band made up of two Northern Soul boys from Leeds) never gets old. It's own obscurity has helped too. I once accidentally went to a comprehensive but vacuous Jean Paul Gaultier exhibition at an art gallery. The 'punk' section made me cry. This is where something brilliant died, I thought. But punk's rise was so meteoric that it was doomed from the beginning. Northern Soul, as Cosgrove points out, was completely ignored by the NME and other mainstream publications. It was too Northern, too sweaty, and altogether too provincial for London cool hunters. For some reason old Jean Paul's Northern Soul line never appeared. Maybe it was the George Best haircuts and homemade club patches. He just couldn't see it.
Stuart Cosgrove executes this story masterfully. The songs he mentions – and, in true Northern Soul fashion, he always notes the label and year – are all available on YouTube so this book can be heard while it's being read. He was an ardent collector and his search for rare soul records while studying in America is a real highlight. On one occasion he picked through the usual sea of vinyl flotsam in a small shop only, at the last moment, to be directed to a pile he'd missed. Amid the dusty and unloved singles he came up with Hey Boy by the DC Blossoms, on the Shrine label. The joy at finding a record you never quite thought you'd own is hard to describe but he does a good job here. His sudden attraction to the woman behind the counter in the velour slacks is part of it but I won't spoil it.
I liked the people in Young Soul Rebels too. Northern Soul was always about individuals as much as it was about music. Many of the participants he introduces to the reader are working class English folk living in the slowly fading light of the industrial revolution. Northern Soul provided an identity and a community at a time when both were under serious threat from the forces of globalization and Thatcherite economics. There is the sad story of his friend Pete Lawson who struggles with mental illness and drug addiction while finding relief in record collecting. There is the surreal tale of master bootlegger, Simon Soussan,  a figure out of Le Carre. Their stories, along with the frequently hilarious antics of various DJs, collectors, and dancers all build a vivid picture of the Northern Soul scene and northern England in the 70s and 80s. Martha Graham once said that 'dancing is the hidden language of the soul of the body'. Cosgrove reveals a bit of the secret language of Northern soul in this worthy book.
Teasers: The club at Allanton and the politics of Northern Soul.
In Love With These Times: My Life with Flying Nun Records by Roger Shepherd, Harper Collins NZ, 2016
I once asked Kim Salmon to explain the extraordinary flowering of early punk in Australia. I'm from Toronto after all, just up the road from New York. We had a few notable bands in this era but nothing on par with The Saints, Radio Birdman, or indeed Kim's outfit, The Scientists. He had no idea. But he did offer his own experience as a possibility. The Scientists' early sound, he told me, was based on what he thought punk might sound like after reading about it in a six month old issue of the NME. There were no punk records in the shops in Perth or Brisbane. Early Australian punk avoided being derivative because no one had actually heard the music.
How's that for a theory? Isolation breeds original music. There should be some great music coming out of places like Reunion Island then. Well, ever heard of Rene Lacaille? And what about Dunedin on the south island of New Zealand? That should be a veritable wellspring of creativity in music. According to Roger Shepherd's new memoir, In Love With These Times: My Life with Flying Nun Records, that is exactly what it is.
The Clean, The Chills, The Verlaines, Tall Dwarfs, Sneaky Feelings, and The Bats are hardly household names but they are all associated with the influential 'Dunedin Sound.' Roger Shepherd notes that, in the early 80s, Dunedin bands went in for reverb, drone, and jangle (without the jingle). Sound familiar? Fans of LA's Paisley Underground scene will recognize the same brushstrokes but might be surprised to note that some of these New Zealand bands got there first or least at the same time. Listen to Sneaky Feelings' 'For Pity's Sake' from the 1982 'Dunedin Double' compilation EP if you don't believe me. Michael Stipe, it should be noted, credits the sound as a major influence on REM's early albums.
Roger Shepherd founded Flying Nun Records in 1981 while working in a Christchurch record store. The most interesting sections of the book are in the first few chapters where he describes the excitement of punk's initial stirrings in New Zealand. He tells a funny story about a friend who in 1976 predicted that the future of popular music was something he called 'Space Rock'. Three weeks later, a new issue of the NME proclaimed the arrival of punk. Space Rock would have to wait. Hopefully for a long time!
Shepherd almost accidentally started the company by releasing two singles ('Ambivalence' by The Pin Group and 'Tally Ho' by The Clean) in 1981. He saw a lot of bands and thought that other people should hear them. Compared to, say, Mushroom Records' Michael Gudinski or someone like David Geffen, Shepherd is a modest fellow indeed. It only occurs to him that he is the owner of Flying Nun when he meets someone in a pub claiming he is instead. It takes him years to get up enough nerve to quit his day job. This is a long way from SST Records being infiltrated by the FBI. But still, these chapters are like snapshots of a lost world in rock and roll. From the four track recorder in someone's living room to the surprise entry into the national charts, there has never been a time like the pre internet early 80s for tiny record labels.
The gap between mainstream and 'alternative' music was far more pronounced than it would be ten years later. The major labels in the 1980s were so powerful and so rich that it was almost impossible to challenge them in the market. Anyone feeling sad about the more recent disruption of the record industry by online piracy might reflect on the effect of this stranglehold on music. Labels like Flying Nun were fighting a real David and Goliath battle with the majors in those days. New Zealand radio was filled with the same bathwater that everyone was subjected to in the early eighties while volunteers packed envelopes with little heard but gloriously creative 45s. Roger Shepherd is far too humble to say so but he, along with his many counterparts all over the world, were revolutionaries. The overused word 'alternative' really meant something in those days. When The Eagles Junta was in power, small labels kept us safe!
Speaking of politics, New Zealand in 1981 was experiencing one of its more dramatic moments. A controversial tour by the South African rugby team, the Springboks, divided the country sharply. The protests were enormous and several games were actually stopped. It's not a overstatement to say that the international attention that the protests brought to the situation in South Africa was a significant step towards the end of Apartheid. Shepherd weaves this story into his own. He doesn't overdo it but there must be some connection between New Zealand's birth as a liberal minded nation on the world stage and the sudden appearance of so much great rock and roll.
In the late 80s, Flying Nun Records relocated to Auckland before it was more or less taken over by Australia's Mushroom label in 1990. Roger Shepherd moved to England where he was eventually pushed out of the label completely when Mushroom itself was taken over. In 2010, he regained control of the label with the help of fellow Kiwi Neil Finn. By this time, Flying Nun Records was recognized in New Zealand as a national treasure that deserved to survive.
Throughout the book, Roger Shepherd seems curiously removed from the music itself. His intentions were, and remain, to distribute music that he enjoys. That said, he says very little about the music. The book certainly has its moments. His descriptions of Chris Knox on stage as the lead singer of Dunedin Sound ur band, The Enemy are vivid and compelling. The story of how Flying Nun inadvertently released a bootleg of The Fall is of interest too. But there is still a book to be written about the 'Dunedin Sound'. Roger Shepherd is a likeable guide to his label's history but a scene that can produce so many bands playing so much deep music requires a far more thorough investigation.
Teaser: The story about the stolen cactus with narcotic properties, the enema kits, and the missing ginger ale is sufficiently weird to remind you that we're talking about New Zealand here, after all.