Young Soul Rebels: A Personal History of Northern Soul by Stuart Cosgrove, Polygot 2016
Northern Soul is timeless and somewhat mysterious. Try to think of another music scene that has continued virtually unchanged for roughly half a century. Not easy, is it? In the late sixties, young English people were dancing to obscure soul 45s in decaying industrial towns. They still are. The dancers have changed but the beat goes on.
Stuart Cosgrove is part of the inner circle. He came of age dancing in Wigan Casino circa 1975 and is thus perfectly placed to tell Northern Soul's story.  The scene was so insular that I suspect that it would be virtually impossible to write about it without a personal connection. Cosgrove, who now hosts a football program on the BBC, peppers this detailed history with his own memories.
This is his second book about music in the last twelve months. His Penderyn nominated Detroit 67 (reviewed on this blog) appeared late last year. That book was an ambitious historical sweep of late 60s America. Young Soul Rebels is more personal but his ability to meld economic change, music, and personal journeys is still on show.
So what is 'Northern Soul'? This is tricky. Yes, it refers to the north of England but it also might allude to the provenance of many of the rare American soul records played in the dancehalls. There are great Northern Soul favourites from the American south but overall the aesthetic seems to be more Motown than Stax, more city than swamp. In any case, Northern Soul is a term originally used by London record stores in the mid 1960s. It was used to describe the incredibly obscure soul 45s that were so popular with DJs in Manchester and points north. These DJs were playing music for Mods who, as Pete Townsend has always made clear, did not listen to The Who. The original Mods listened to Jazz, Blues, RnB, and the early Jamaican pop sounds on Blue Beat records. This eclecticism soon gave way to an almost religious obsession with Motown and the thousands of little labels producing similar sounds in that period.
At some point in the late Sixties, the Mods divided into two factions. One group drifted into paisley shirts and faux pastoral lysergic afternoons in Hyde Park. The other group donned singlets and loose pants for heart murmuring nights of amphetamine cocktails and Northern Soul. Unlike the twisty yoga hand jive and starry eyed shuffle of the first group, Northern Soul dancing was acrobatically athletic. The clothes had to be loose enough to accommodate back flips, high kicks, and swallow dives. Many of the most famous male dancers were also involved in martial arts. As for female dancers, well, there was one young woman who turned a few heads with her moves at the Blackpool Mecca in the mid 70s. Her name was Jayne Torvill.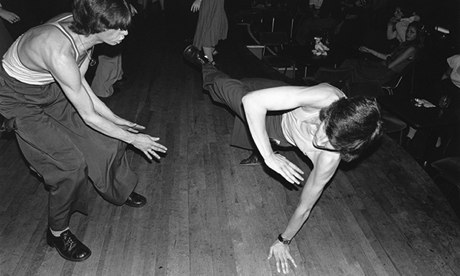 Stuart Cosgrove covers the early years at Manchester's Twisted Wheel nightclub, where the scene was born, but focuses on the most famous venue of all, Wigan Casino. He lovingly recreates the sights, sounds and olfactory sense of an evening there. The layout is important. It wasn't just one big hall. There were smaller rooms where traditionalists could dance to early sixties sides without having to worry about the creeping funkiness of early 70s r'n'b. In other rooms there were pop up rare record markets where big money changed hands and discussions of music often grew heated. The main room, however, was where the seriously aerodynamic dancing took place and legendary DJs melted the floor with sides like Fred Hughes Baby Boy. Listen to it on YouTube and see if you can sit still. I dare you! At the end of the night which was actually the next morning, the DJ would play the '3 before 8'(am); Jimmy Radcliffe's Long After Tonight Is All Over, Tobi Legend's Time Will Pass You By and Dean Parrish's I'm On My Way. The dancers would then make their way outside, blinking in the grey Sunday morning light and presumably heading for the nearest curry shop.
Wigan's popularity inevitably caught the notice of the mainstream media, albeit briefly. In 1975, an episode of Top of the Pops featured a cringe inducing 'Northern Soul' dance segment with lousy music and ridiculous clothing. For a scene deeply invested in authenticity and integrity, it was traumatic. One Wigan dancer later described it as 'our Vietnam flashback moment'.
Wigan Casino closed in the late 70s, by which time the scene was shifting to the Mecca in Blackpool. The mid seventies were not kind to the old English seaside resorts but the Northern Soul scene offered some relief. The large halls where grandparents had danced in Larkin's 1914 became venues for large-scale soul events. Never such innocence indeed! And appropriately, it was at one of these places where a veritable Great War erupted in Northern Soul.
It all started when a man called Ian Levine went on vacation with his wealthy family to Florida. In the course of his visit to the US, he bought a warehouse, yes a warehouse, worth of old soul records. As they arrived back on cargo ships, he made 'yes, no, and maybe' piles. The yes pile included, horrors, music from the early 1970s, as opposed to the mid sixties. While DJing the Mecca, he veered dangerously in the direction of the funky and disco-licious. In the weeks that followed, there were protests and 'Levine Must Go' pins were distributed. Other DJs followed suit in smaller venues. One fellow was fired on the spot for playing Rose Royce's Car Wash. (Not incarcerated?) Ian Levine went on to DJ at London's famous gay disco, Heaven, for a decade before producing the boy band Take That. Today, he is an extraordinarily cranky Dr Who fanatic. His YouTube channel is a great place to hear some seriously obscure soul.
Northern Soul drifted back to relative obscurity in the mid to late 1980s. Its original dancers were now approaching middle age and there was a sense that all of the great rare singles had been uncovered. Various revivals have kept it alive however and it is still entirely possible to find a soul all nighter in England today. I'm keen! Who's with me? I'm not sure about the singlet but I like the idea of baggy pants.
Its longevity is not really such a great mystery. The music is timeless and brilliant. A legendary Northern Soul standard like Gloria Jones' Tainted Love (famously covered by Soft Cell, a band made up of two Northern Soul boys from Leeds) never gets old. It's own obscurity has helped too. I once accidentally went to a comprehensive but vacuous Jean Paul Gaultier exhibition at an art gallery. The 'punk' section made me cry. This is where something brilliant died, I thought. But punk's rise was so meteoric that it was doomed from the beginning. Northern Soul, as Cosgrove points out, was completely ignored by the NME and other mainstream publications. It was too Northern, too sweaty, and altogether too provincial for London cool hunters. For some reason old Jean Paul's Northern Soul line never appeared. Maybe it was the George Best haircuts and homemade club patches. He just couldn't see it.
Stuart Cosgrove executes this story masterfully. The songs he mentions – and, in true Northern Soul fashion, he always notes the label and year – are all available on YouTube so this book can be heard while it's being read. He was an ardent collector and his search for rare soul records while studying in America is a real highlight. On one occasion he picked through the usual sea of vinyl flotsam in a small shop only, at the last moment, to be directed to a pile he'd missed. Amid the dusty and unloved singles he came up with Hey Boy by the DC Blossoms, on the Shrine label. The joy at finding a record you never quite thought you'd own is hard to describe but he does a good job here. His sudden attraction to the woman behind the counter in the velour slacks is part of it but I won't spoil it.
I liked the people in Young Soul Rebels too. Northern Soul was always about individuals as much as it was about music. Many of the participants he introduces to the reader are working class English folk living in the slowly fading light of the industrial revolution. Northern Soul provided an identity and a community at a time when both were under serious threat from the forces of globalization and Thatcherite economics. There is the sad story of his friend Pete Lawson who struggles with mental illness and drug addiction while finding relief in record collecting. There is the surreal tale of master bootlegger, Simon Soussan,  a figure out of Le Carre. Their stories, along with the frequently hilarious antics of various DJs, collectors, and dancers all build a vivid picture of the Northern Soul scene and northern England in the 70s and 80s. Martha Graham once said that 'dancing is the hidden language of the soul of the body'. Cosgrove reveals a bit of the secret language of Northern soul in this worthy book.
Teasers: The club at Allanton and the politics of Northern Soul.